Welcome to the website of Takesue Dental Clinic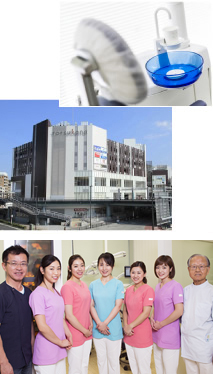 There are few things worse than a toothache. Especially when you have a sharp and constant pain in a place where language barriers exist.
Going to the dentist can be scary anywhere, but one's oral health should not be neglected simply because one is intimidated by language or unknown procedural costs.
Dr.Jun Takesue is one of the dentists in Yokohama, and foreign residents and international tourists can turn to for bilingual care.
Takesue Dental Clinic is located in Totsuka, Yokohama. Clinic is easy to get to if you take train such as Tokaido Line, Yokosuka Line and Blue Line Yokohama Municipal Subway. Once you get off the train at Totsuka Station, you can get our clinic in just one minute by walking.
Dr. Jun Takesue,D.D.S.,M.S.D. graduated from Boston University School of Dental Medicine and holds a Postgraduate Diploma in Prosthodontics. Prosthodontists are experts in the restoration and replacement of teeth - they make smiles look beautiful and function the way they should.
Most of all international dental insurance policies are accepted at Takesue Dental Clinic.
We hope you will give us the opportunity to serve you.
Let us provide you with the best treatment possible.
Special features in Takesue Dental Clinic
・Japanese-English Speaking.
・Strict sterilization for all equipment and apparatus.(Class B Sterilization)
・Individually packed hand instruments, single use of needle, saliva suction and triples syringe tip for prevention of cross infection.
・Procedure done by experienced specialist
・Use of Microscope in most of the procedures.
・Quality and painless procedures.
・Friendly and homelike atmosphere.

D.D.S. Tokyo Dental College
January 1997
Advanced Partial Prosthodontics, Boston University School of Dental Medicine Department of Prosthodontics
February 1997
Clinical Instructor, Boston University School of Dental Medicine Department of Prosthodontics
March 1999
Present a thesis at International Association for Dental Research, March 1999 Vancouver
"An investigation of the dimentional accuracy of milled ceramic inlays and copings and wear characteristics of the associated milling instruments"
September 1999
M.S.D(Master of Science in Dentistry), Boston University School of Dental Medicine Department of Biomaterials

Major Treatment Fees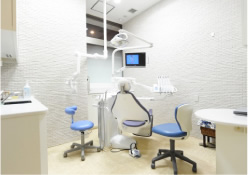 First-time registration, including a check-up and consultation, costs JPY 14500.
| | |
| --- | --- |
| Composite Resin Restoration | JRY 24500~ |
| Gold Inlay | JPY 58500~ |
| Ceramic Inlay | JPY 68500~ |
| Gold Crown | JPY 130000 |
| PFM Crown | JPY 140000 |
| All Ceramic Crown | JPY 150000 |
| Root Canal Anterior | JPY 50000 |
| Root Canal Posterior | JPY 60000 |
| Tooth Extraction | JPY 20000 |
| Dental Implant | JPY 400000~ |
| Removable Partial Denture | JPY 172000~ |
| Complete Denture | JPY 363000~ |
| Hygiene Work | JRY 7500/hour |
| Regular Check-up | JPY 6500~11000 |
To Make a Reservation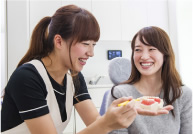 You can call us in English and tell the receptionist that you want to talk to the doctor. Dr.Takesue will be right with you and make a reservation for you.

045-871-2013
You may also email us and make a reservation. Feel free to get in touch with us.
jun@takesue-dental.com